2 June 2017                         Daily Analysis
Dollar-bulls on cue, NFP speculated to deliver.
US dollar tacks at one-week high against Japanese yen while dollar-bulls awaits the closely-watched Nonfarm Payrolls report for another potential upside. The dollar index eased 0.01% to 97.21 while pair of USD/JPY rose 0.22% to 111.62. Overnight, greenback advances against other major currencies following the release of US private-sector jobs data which showed better-than-expected reading that has catalyzed higher expected for a firm jobs report. Private employers have added 253,000 jobs for the month of May, well above Wall Street's expectation for an increase of only 185,000. The greenback received further support after US manufacturing activity ticked higher to 53.5 in May with expected rise of 52.8 seen. "If tonight's jobs report is strong, we might see the dollar make a significant headway as it would prompt speculators to unwind their short position on the currency and US Treasuries," said Yukio Ishizuki, senior currency strategist.
In the commodities market, crude oil price slid nearly 1% and was last seen at $48.10 during amid growing concern among investors over global supply glut despite larger-than-expected draw in US crude inventories. Similarly, gold price shed 0.31% to $1,263.03 following greenback's surge prior to better-than-expected private jobs data from yesterday.
Today's Holiday Market Close
Time                       Market                                  Event
N/A
Today's Highlight Event
Time                       Market                                  Event
N/A
Today's Highlight Economy Data
| | | | | |
| --- | --- | --- | --- | --- |
| Time | Nation & Data | Previous | Forecast | Actual |
| 16:30 | GBP – Construction PMI (May) | 53.1 | 52.7 | – |
| 20:30 | USD – Nonfarm Payrolls (May) | 211K | 185K | – |
| 20:30 | USD – Unemployment Rate (May) | 4.4% | 4.4% | – |
| 20:30 | USD – Trade Balance (Apr) | -43.70B | -46.10B | – |
| 20:30 | CAD – Trade Balance (Apr) | -0.14B | -0.07B | – |
| 01:00 | Crude Oil – US Baker Hughes Oil Rig Count | 722 | – | – |
GBPUSD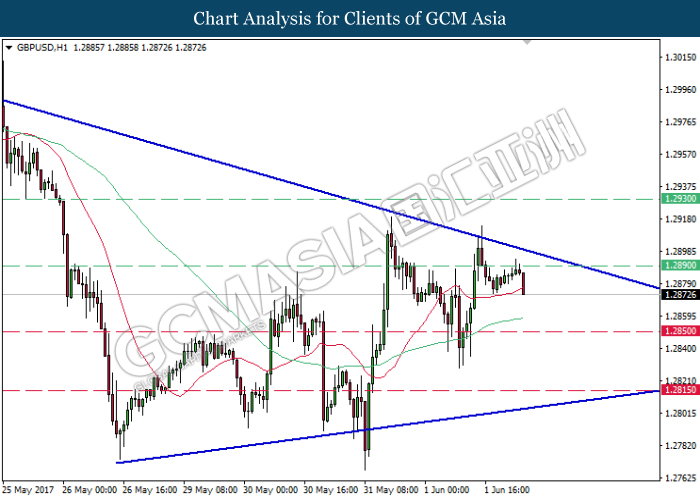 GBPUSD, H1: GBPUSD remained traded within a narrowing triangle following prior retracement from the top level. A closure below the 20-moving average line (red) would suggest GBPUSD to move further down, towards the target of support level at 1.2850.
Resistance level: 1.2890, 1.2930
Support level: 1.2850, 1.2815
EURUSD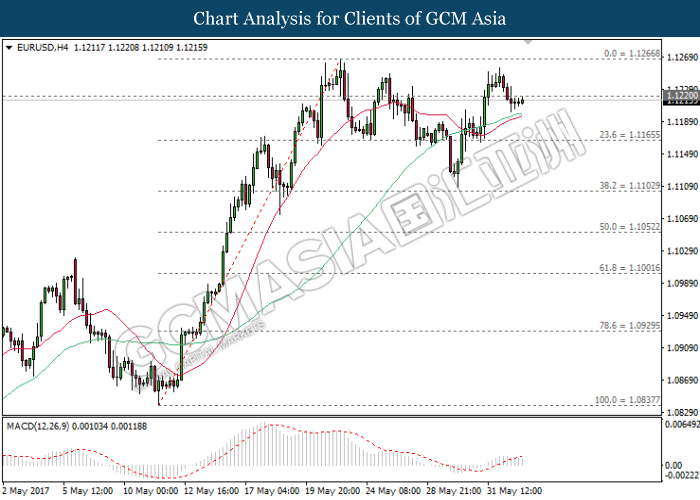 EURUSD, H4: EURUSD was thinly traded near the resistance level of 1.1220 following prior retracement from previous high. However, as the MACD indicator begins to hover outside of upward momentum, EURUSD may be traded lower in short-term as technical correction. Otherwise, long-term trend direction suggests EURUSD to move further up after closing above 1.1220.
Resistance level: 1.1220, 1.1265
Support level: 1.1165, 1.1100
USDJPY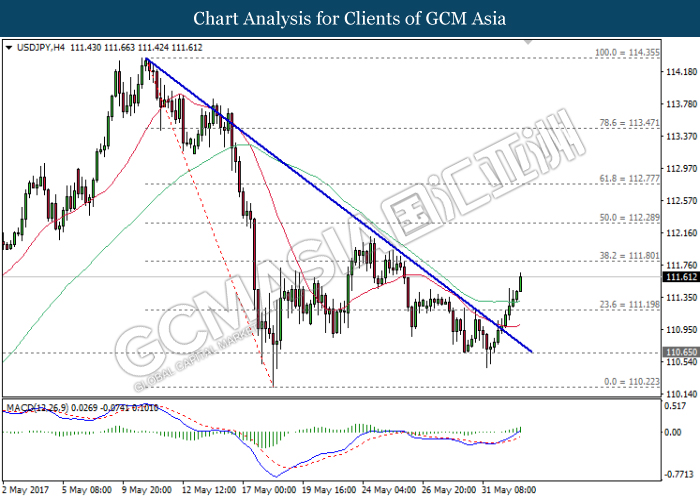 USDJPY, H4: USDJPY has recently broke out from the downward trend line, signaling a change in trend direction to move further upwards. MACD histogram which illustrates the expansion of upward signal line suggests USDJPY to advance further up towards the target of resistance level at 111.80.
Resistance level: 111.80, 112.30
Support level: 111.20, 110.65
CrudeOIL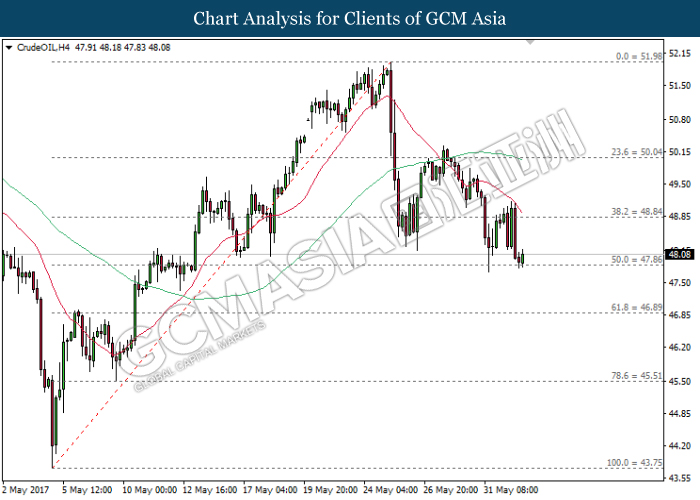 CrudeOIL, H4: Crude oil price was traded lower following prior retracement from the 20-moving average line (red). As both MA lines continue to expand downwards, crude oil price is suggested to extend its losses after breaking the support level of 47.85.
Resistance level: 48.85, 50.05
Support level: 47.85, 46.90
GOLD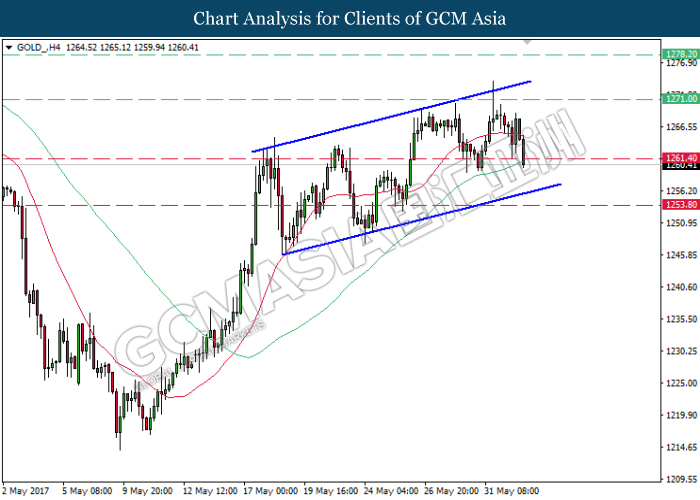 GOLD_, H4: Gold price remained traded within a downward channel following prior retracement from the top level of the channel. A closure below the support level of 1261.40 would suggest gold price to extend its losses towards the bottom level of the channel thereafter.
Resistance level: 1271.00, 1278.20
Support level: 1261.40, 1253.80