18 April 2017                       Daily Analysis
Mnuchin cushions the greenback from further losses.
The greenback inches off five-months low versus the Japanese counterpart on Tuesday following comments from US Treasury Steven Mnuchin while higher debt yields provided additional support on the currency. From an interview with the Financial Times, Mnuchin agreed with US President Donald Trump's view that the dollar strength in the short-term will reduce their export competitiveness. However, he postulated that the long-term effect of such dollar resilience could bring more positivity to the country. Otherwise, its gains remained capped as United States will begin their first economic dialogue with Japan later today. Concerns arises over United States possibility to take a tougher trade stance against Japan whom Trump complains that it and other countries had previously weakened their currencies artificially to gain competitive trade advantage. Likewise, the dollar index was up 0.03% to 100.17 while pairing of USD/JPY appreciated by 0.19% to 109.11.
Looking into the commodities market, crude oil price edged further up as the market look ahead to comments by US Vice President Mike Pence in Tokyo over continued tension on the Korean Peninsula prior to the release of US crude oil inventories estimates by American Petroleum Institute. On the other hand, gold price was trade lower, trimming 0.34% to $1,284.97 while downside remained limited due to ongoing geopolitical tensions.
Today's Holiday Market Close
Time                       Market                  Event
N/A
Today's Highlight Events
Time                       Market                  Event
08:30                        AUD                     RBA Meeting Minutes
Today's Highlight Economic Data
| | | | | |
| --- | --- | --- | --- | --- |
| Time | Nation & Data | Previous | Forecast | Actual |
| 20:30 | USD – Building Permits (Mar) | 1.216M | 1.250M | – |
| 04:30 | Crude Oil – API Weekly Crude Oil Stock | -1.300M | – | – |
GBPUSD
GBPUSD, H4: GBPUSD was traded lower following a retracement from the strong resistance level of 1.2600. However, as the MACD indicator continues to hover within the upward momentum, a successful rebound from the support level of 1.2550 would suggest GBPUSD to advance further up and retest near the psychological level of 1.2600.
Resistance level: 1.2600, 1.2645
Support level: 1.2550, 1.2500
EURUSD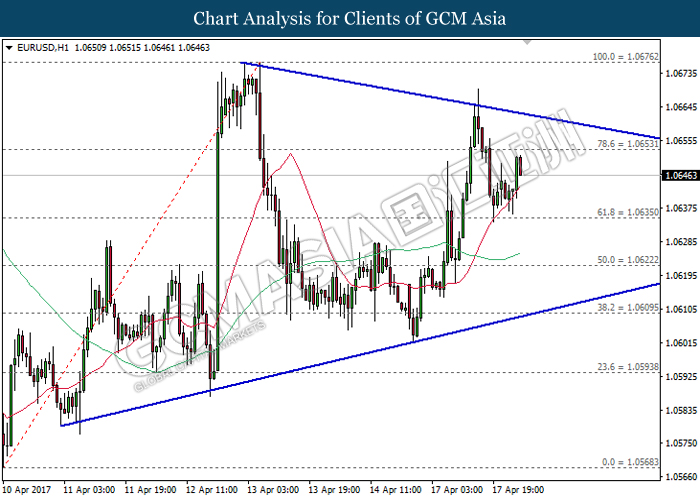 EURUSD, H1: EURUSD remains traded within a narrowing triangle while recently rebounded from the mid-level of the triangle, near the support level of 1.0635. It is expected to advance further up, towards the top level of the triangle after a successful closure above the resistance level of 1.0650. Long-term trend direction could only be determined after a breakout from either side of the narrowing triangle.
Resistance level: 1.0650, 1.0675
Support level: 1.0635, 1.0620
USDJPY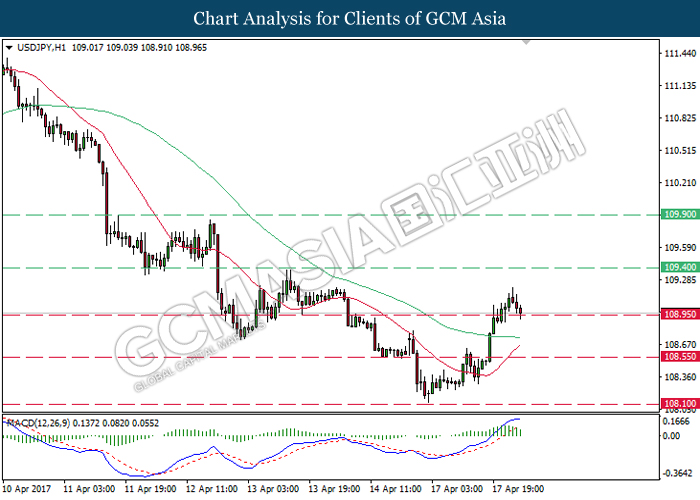 USDJPY, H1: USDJPY was traded lower following prior retracement while currently testing near the support level of 108.95. Prior retracement suggests USDJPY to experience brief technical correction and to be traded lower in the short-term. However, long-term trend direction suggests USDJPY to advance further up as MACD histogram indicator continues to illustrate upward signal and momentum.
Resistance level: 109.40, 109.90
Support level: 108.95, 108.55, 108.10
CrudeOIL
CrudeOIL, H1: Crude oil price remains traded within an upward channel while currently testing near the bottom level of the channel. A breakout from this level would signal a change in trend direction to move further downwards thereafter. Otherwise, a rebound would suggest crude oil price to be traded higher for short-term within the channel thereafter.
Resistance level: 53.20, 53.45
Support level: 52.90, 52.60
GOLD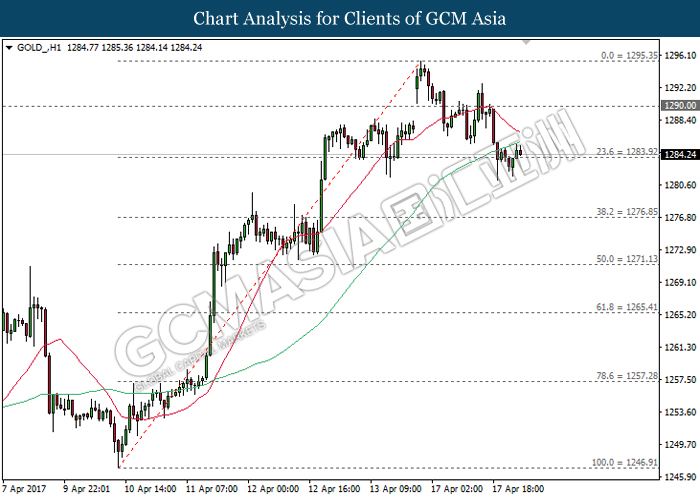 GOLD_, H1: Gold price was traded lower following prior retracement from the 60-moving average line (green). Referring to both of the MA lines which continues to narrow downwards and may form an imminent death cross, gold price is expected to advance further down after a successful closure below the strong support level of 1283.90.
Resistance level: 1290.00, 1295.35
Support level: 1283.90, 1276.85