19 April 2017                      Daily Analysis
Sterling rises as May calls for election.
Embattled greenback hovered near three-weeks low against its major peers, having dragged by the resurgent of pound sterling as British Prime Minister Theresa May calls for an early general election ahead of Brexit negotiations. The British currency skyrocketed to more than six-months high after May postulated that an election is needed to "secure strong and stable leadership" in order to sustain smooth terms negotiation with the European Union. The dollar index eased up 0.05% to 99.40, not far from overnight's low of 99.31. Otherwise, pound sterling was held steady at $1.2837 against the US dollar, its highest level since early October. "May's decision to hold a vote gave sterling a higher lift. However, we still have other issues in the background such as North Korea and French election which could weigh on overall risk sentiment," said Masafumi Yamamoto, currency strategist in Tokyo. In addition, the battered greenback experienced wider downside following overnight's downbeat US homebuilding data and manufacturing output which scares off market's bet for a bullish momentum.
Peering into the commodities, crude oil price eased by 0.13% to $52.34 on Wednesday due to less-than-expected dip on industry estimates for US crude inventories. Despite concerns over a rebound in US shale industry, some investors are adamant that OPEC-led cuts would help offset the rising levels in US shale production. Similarly, gold price eased 0.34% to $1,287.32 as geopolitical tension on the Korean peninsula begins to boil down.
Today's Holiday Market Close
Time                       Market                  Event
N/A
Today's Highlight Events
Time                       Market                  Event
N/A
Today's Highlight Economy Data
| | | | | |
| --- | --- | --- | --- | --- |
| Time | Nation & Data | Previous | Forecast | Actual |
| 17:00 | EUR – CPI (YoY) (Mar) | 1.5% | 1.5% | – |
| 22:30 | Crude Oil – Crude Oil Inventories | -2.166M | -1.470M | – |
GBPUSD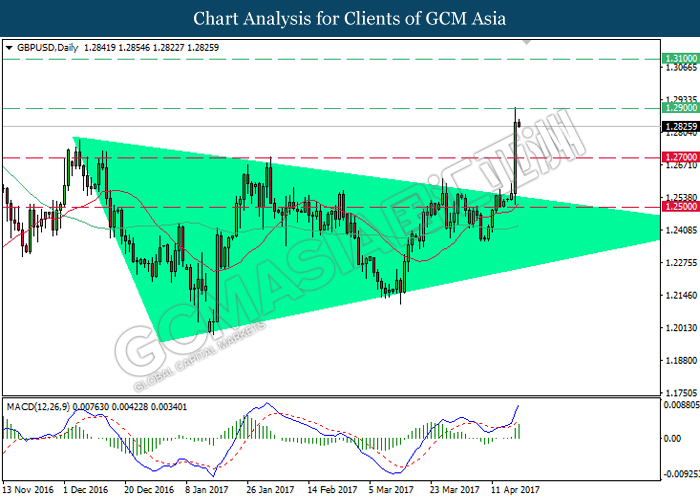 GBPUSD, Daily: GBPUSD has recently broke out from upper level of narrowing triangle, signifying a change in trend direction to move further upwards. With regards to the MACD histogram which illustrates upward signal and momentum, GBPUSD is suggested to extend its upward momentum after a successful closure above the resistance level of 1.2900.
Resistance level: 1.2900, 1.3100
Support level: 1.2700, 1.2500
EURUSD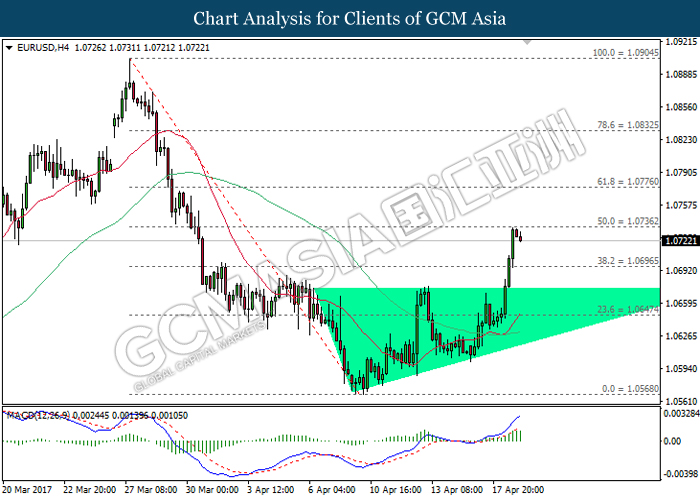 EURUSD, H4: EURUSD has previously broke out from the upper level of ascending triangle, suggesting a change in trend direction to move further upwards. However, recent retracement suggests for a brief technical correction and EURUSD may be traded lower in the short-term. Long-term trend direction suggests for an extension of upward momentum as MACD histogram continues to illustrate upward signal and momentum.
Resistance level: 1.0735, 1.0775
Support level: 1.0645, 1.0570
USDJPY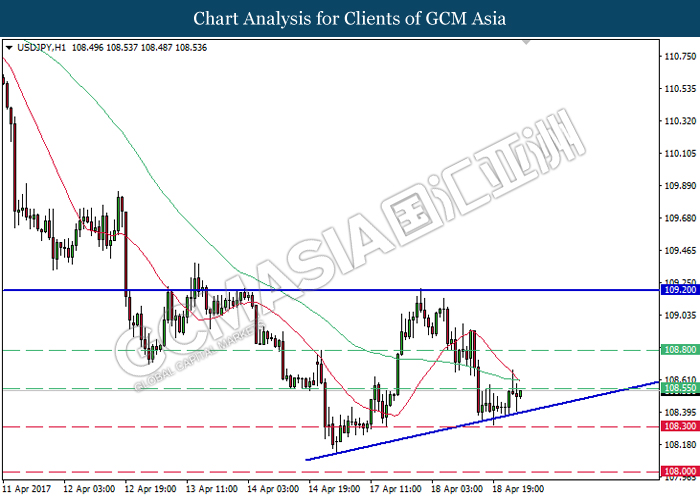 USDJPY, H1: USDJPY remains traded within an ascending triangle while currently testing at the bottom level of the triangle. A breakout from this level would signal a change in trend direction to move further downwards thereafter. Otherwise, a rebound would suggest USDJPY to be traded higher in short-term within the ascending triangle.
Resistance level: 108.55, 108.80, 109.20
Support level: 108.30, 108.00
CrudeOIL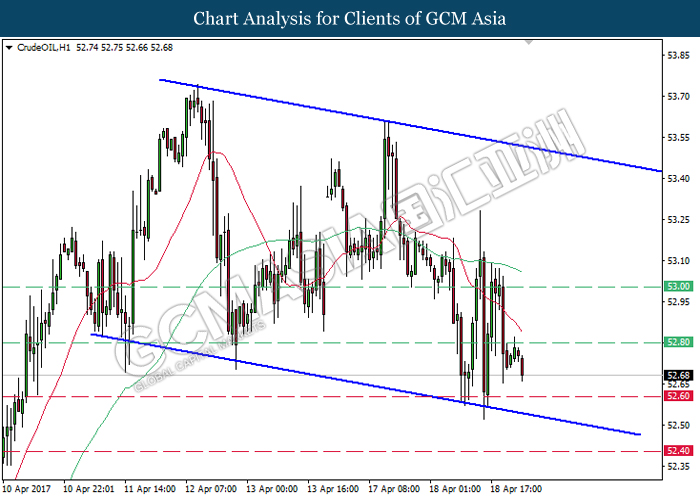 CrudeOIL, H1: Crude oil price remains traded within a downward channel while recently was traded lower due to a retracement near the resistance level of 52.80. As both moving average line continues to expand downwards after the formation of death cross, crude oil price is expected to move further down, towards the target of support level at 52.60.
Resistance level: 52.80, 53.00
Support level: 52.60, 52.40
GOLD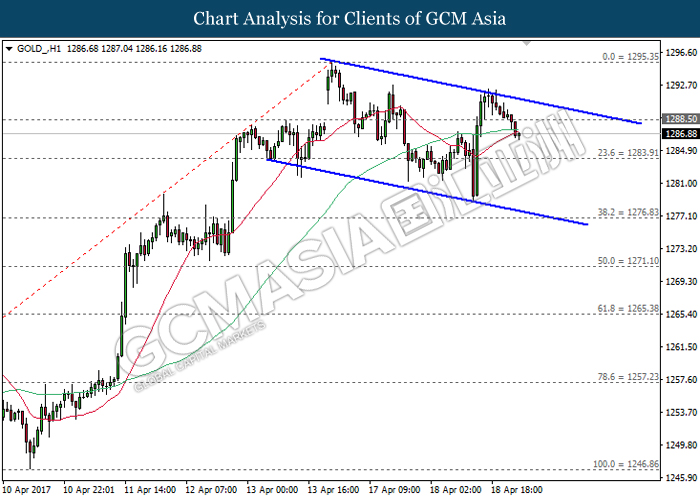 GOLD_, H1: Gold price remains traded within the downward channel following prior retracement from the top level of the channel. Recent closure below both moving average line suggests gold price to move further downwards, towards the target of support level at 1283.90.
Resistance level: 1288.50, 1295.35
Support level: 1283.90, 1276.85